April 20th, 2008 -
I really am going to add more scrapbook pages. Honest.
Sept 11th, page 2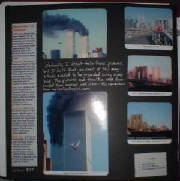 I cut and pasted a timeline into MS Publisher and used it as a sidebar on each page.
I have discovered a wonderful advantage to my digital camera - it is going to make it a LOT easier to take pictures of scrapbook pages for my web site! The pages didn't fit on my scanner, so I was relying on taking good photos and having them developed, and it seemed like a waste of film... no more! I may prefer the scanner for my beadwork and journal pages, but for the scrapbook pages the camera works wonderfully!